Dino goes every 6 weeks and loves it. Cannot wait to get out the car and up to the door. Always a friendly greeting. Being a labradoodle he gets very matted and other lesser groomers just want to shave him(and charge a fortune-I've been charged £100 upwards in the past!) but the guys here painstakingly get all the knots out and he looks wonderfully fluffy and white when i collect him. Sometimes he just doesn't want to leave. I always rebook before I leave. Very reasonably priced.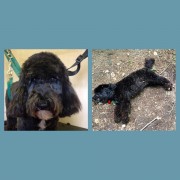 If you want a happy, smart, clean smelling pup (if only for a day!), Tails of Westerham is the place to go. My Cockapoo was just a small 6 month old puppy when she went for her first groom. An experienced owner told me to find the right groomer as bad experiences can really affect dogs, and Tilly although nervous at first now enters Tails of Westerham at a 100mph bolt, ready to be pampered and preened! I cannot recommend Jacqui & Tails of Westerham highly enough and you get at least a whole day of being able to pamper and cuddle your dog without thinking about what they have been rolling in! Get booked in though, I know she is popular
We decided to try a different dog groomer for our old english sheep dog Archie, and what a good decision that turned out to be. Archie was looked after so well and when I picked him up I was very pleased that he still look like and old english sheep dog we received a fantastic service and will now not look elsewhere for a grooming service. Polite, friendly and informative manner. Highly recommended x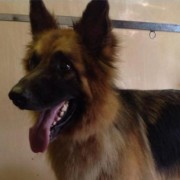 Amazing!! I took my 4 year old German Shepherd for a groom and had been really nervous as he hadn't been groomed / bathed properly before and isn't a fan of the brush! Jackie and Sophie really put me at ease and then put Aki at ease. It was clear to see they are both properly qualified and genuinely love dogs. I couldn't believe it was the same dog when I came to pick him up – they really worked wonders with him. I will certainly make taking Aki a regular thing! Thank you so much Jackie and Sophie for making Aki look so wonderful and I'm sure he now also feels pretty fantastic not having to deal with matted / extra hair. 
I can't recommend enough!
Super-pleased with Howard's haircut. He was such a state when I dropped him off I was embarrassed. Jacqui has so much patience she's managed to detangle him without shaving him bare. Brilliant.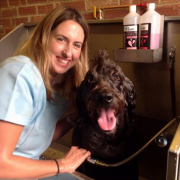 Really delighted with how both our dogs have been groomed and how relaxed they have been about the whole experience.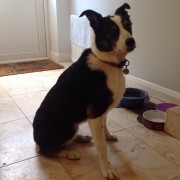 Tails of Westerham is a fantastic place to take your pooch. They will be well looked after & come out looking & smelling amazing! Our dog Billie is a bit of a wuss & is scared of lots of things but Jacqui was great with her & put her at ease. Her coat looked so beautiful & glossy afterwards. We'll definitely be coming back again
This was Jets first groom she looks amazing and judging from the happy face and racing around she feels amazing as well. I especially liked the fact that she was so well looked after as the grooming was stopped so she could have some cuddling. Very professional service I will be back and will certainly recommend to anyone else xxx
Fantastic groom. My Tibetan Terrier looks amazing and came out really happy.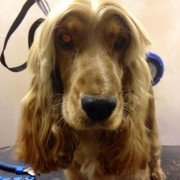 My beautiful girl looks so amazing, really pleased. Thanks Jacqui for a great job, we'll definitely be back!
Thank you for Polo`s haircut. He smells lovely.. highly recommend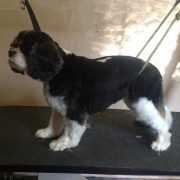 Having been told by a previous dog groomer that our Cavalier King Charles Spaniel would have to be stripped as her coat was too knotted for it to be cut according to the breed standard, I was delighted to hear that this was not the case and that Mollie would soon be able to look like the Cruft's champion she is. As her coat grows out, Jacqui and Sophie plan to trim it so that the ruff, skirt and feathers gradually appear, giving our dog the dignity that is her right!
Today was Ozzie's first groom, and he looks so good, no he looks perfect.. from the moment we got there he was happy playing with a puppy friend, oblivious of me leaving him, which helped me to not worry about him.. I would highly recommend Tails of Westerham and I will be to all my doggie friends.. Thank you Jacqui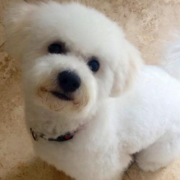 Just taken our Bichon for a groom here, service and care of our puppy was excellent. I couldn't ask for anything more. Definitely coming here again!